How to style a peplum kurta in 4 ways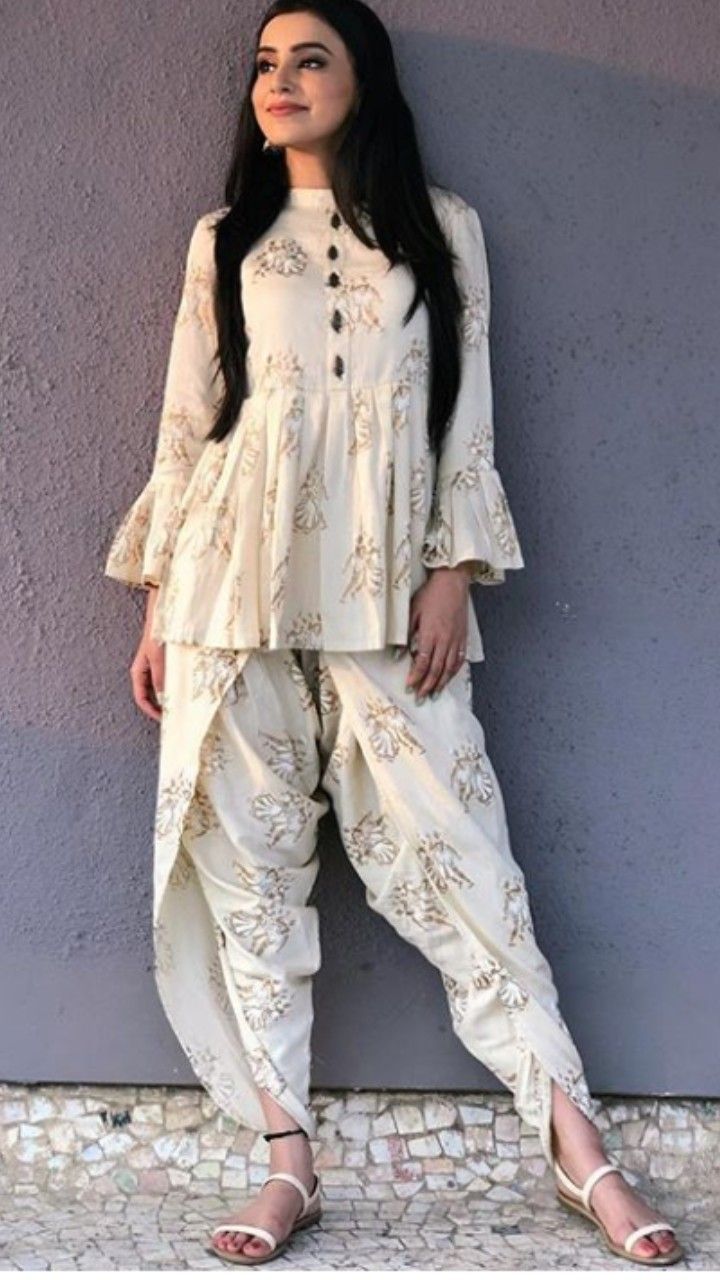 Did you know that a peplum kurta is an excellent addition that you should add to your Indian wardrobe? Believe it or not, it definitely has an edge over your ordinary regular kurta. However, many people struggle at styling it perfectly to use it over and over again. The lack of styling sense is truly a disaster for your closet.
If styling in a posh way, you can wear your peplum kurta at weddings, festivities, family functions and even on traditional functions like puja. We believe a peplum kurta is truly versatile and definitely a piece worth investing in and styling. So, without any further ado, let's check out some astounding ways to style a peplum kurta for multipurpose use.
1 Peplum Kurta in 4 Ways
Peplum kurta with sharara
Slay your classic peplum kurta with a sharara. It is a classy combination that looks drop-dead gorgeous and is very easily available in the market. We all know that shararas are way too comfy and it is very easy to move around in them. You can flaunt this voguish attire at a Mehendi or sangeet function. Do not forget to wear dainty pieces of jewellery for a lavish look. Wear heels to elevate your look.
Peplum Kurta with Trousers
If you have a long peplum kurta but you cannot find bottom wear for it, make sure to check out this style tip. Pair your long peplum kurta with cropped trousers for an edgy look. It's a fuss-free, contemporary and comfy look that is easy to carry and ideal for someone who isn't in very heavy traditional outfits. Add extra bling factor to your look by adding a statement clutch and chic drop earrings.
Peplum kurta with dhoti pants
Say goodbye to regular salwar and leggings and go for uber-cool dhoti pants. Yes, dhoti pants which might seem baggy but look dapper once paired with a peplum top. They are easy to dress up and down and this look is a mix of western and traditional. This fusion look is apt for the Mehendi function. Wrap it up with a stylish updo and statement earrings and you are all set to rock the Mehendi or sangeet function.
Peplum kurta with a saree
Saree. Are you serious? We know you might be having such thoughts in your mind after reading this style tip. Don't worry, as we will tackle all your worries and promise you that this hack will look the best of all. Sarees are the perfect Indian traditional outfit, but, there is always a way to reinvent this piece of clothing. Sarees look phenomenal in this classic way but this styling tip will change your mind. What better than slaying your peplum kurta with a saree? Opt for a saree that is plain but matches the base colour of your peplum kurta. Style this outfit further with a dainty necklace, earrings and ring to make it wedding party appropriate.
So, these were some of the best ways to style a classic peplum kurta. Hope this helps. Buy classic sarees, peplum tops and many more pieces of Indian clothing worldwide now.